Teresa Duke's work is currently available through Berkeley Gallery, Warrenton, Virginia and  ZigZag Gallery in The Plains, Virginia.  The artist welcomes inquiries for portrait, equine and other commissions.



"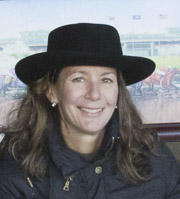 Teresa Duke Fine Art | PO Box 478
The Plains, Virginia 20198 | 540.905.5529
Personal

Teresa Ann Duke was born in Washington, D.C. in 1962. The daughter of two physicians, she spent much of her childhood developing her passion for art while painting alongside her mother. In 1987, the artist moved to Warrenton, Virginia while pursuing her Master of Fine Arts degree at George Washington University under the tutelage of William Woodward.  While there, she received the Robert N. Alfandre award for drawing. Afterwards, she spent several years in scenic Rappahannock County, Virginia developing a love of plein air painting.   Ms. Duke spent two years living in northern New Mexico interpreting the brilliant light and saturated colors of the high desert.  She studied with Wolf Kahn during this time at the Santa Fe Institute of Fine Arts.  Ms. Duke had the privilege of working with noted portrait master Daniel Greene during the summer of 2009.
Currently the artist lives and works in Fauquier County, Virginia and teaches art to young people at Wakefield School in The Plains, Virginia. Her recent work continues to focus on the local landscape, still life, and equine subjects.
Recently her painting, Paddock at Keeneland was chosen for the 75th anniversary issue of Keeneland Magazine in the fall of 2011. She was a featured artist in The Piedmont Virginian, Winter 2012. She was a juried artist at the 2011 Painting Annapolis plein air event, and received an Honorable Mention for her painting View Down Prince George Street. Youngblood Art Studio in The Plains, Virginia featured Ms. Duke's recent work at their December 2011 show.
Education

Bachelor of Arts, Fine Arts, Boston College, 1984
Master of Fine Arts, Painting, George Washington University, 1987
Bachelor of Arts, Elementary Education, College of Santa Fe, 1994
Public and Private Collections
Boston College Gallery, Chestnut Hill, MA
The Dimock Gallery, Washington, DC
The George Washington University, Washington, DC
AH&T Insurance, Warrenton, VA
Circuit Court of Fauquier County
Devlin and Associates, Pittsburgh, PA
Piedmont Vineyards, Middleburg, VA
Hutchinson Travel Bureau, Warrenton, VA
Wakefield School, The Plains, VA
Memberships
The Mid-Atlantic Plein Air Painters Association
Awards and Publications

Painting in The Plains, Local Artist Teresa Duke by Kate Granruth, Broad Run Lifestyle Magazine, 11/2016
Featured artist, Middleburg Life, Brushstrokes, August,2015

Gallery Artist, The Chronicle of the Horse, August 18, 2014

Cover artist, The Chronicle of the Horse, July 29, 2013, Steeplechase Issue, Spring Race at Glenwood Park

Middleburg Life, 33(11), May 2013, Teresa Duke: Art Educator Craves More

Featured artist, The Piedmont Virginian, Winter 2012

Cover artist, 75th anniversary issue, Keeneland Magazine, Fall 2011.

The Fauquier Times Citizen, October, 2006

The Fauquier Magazine, "An Artist Taking Chances" Fall, 1992

Rappahannock News, November, 1990

The Robert N. Alfandre Award for Drawing, The George Washington University, Washington, DC, 1986


Individual and Group Exhibits

Art at the Mill, Millwood, VA, Spring 2017
Solo Exhibit, The Steinway Studies and Other Mementos, George
Washington University, Ashburn Campus, 2/2017
The Country Life, Byrne Gallery, Juried Group Show, 2/2017
Art of the Piedmont, Middleburg, VA, 2/2017
Pop-Up Show, Peyton's Place, The Plains, VA, 10/2016
Artists in Middleburg, Chaos Exhibit, 8/2016
Sunday Sketch Artist, The National Sporting Library and Museum,
6/2016 and 10/2016
Juror, Piedmont Regional Art Show, The Plains, VA, 5/2016
Art at the Mill, Millwood, VA, 4/2016 and 10/2016
Art of the Piedmont, Middleburg, VA, 2/2016
Museum of Hounds and Hunting,
Salamander Inn and Resort, Middleburg, VA, 12/2015
Art at the Mill, Millwood, VA, 10/2015
Common Grounds, Middleburg, VA, Points of View,
Solo Exhibit, 9/2015
Museum of Hounds and Hunting,
Salamander Inn and Resort, Middleburg, VA, 5/2015
Piedmont Regional Art Show-Best of Show, The Plains, VA, 5/2015
Art at the Mill, Millwood, VA, 4/2015
Art of the Piedmont, Middleburg, VA, 2/2015
American Academy of Equine Art, Georgetown, KY
Fall 2014 juried show
A Day at the Races at Montpelier benefiting the
Thoroughbred Retirement Foundation, 10/ 2014
Art of the Piedmont, Middleburg, VA, 2/2014
Byrne Gallery, Middleburg, VA, 2/2014, Artists in Middleburg
Art at the Mill, Millwood, VA, 5/2013 10/2013
Art of the Piedmont, Middleburg, VA, 2/2013
4 Women Paint, Live an Artful Life Gallery, The Plains, VA, 9/2012
Youngblood Art Studio, The Plains, VA
Caulfield Gallery, Washington, VA
ZigZag, The Plains, VA
Berkley Gallery, Warrenton, VA
The Middle Street Gallery, Washington, VA
Studio 19, Warrenton, VA
Picture This, Warrenton, VA
The Art Mill, Washington, DC
The Dimock Gallery, Washington, DC
The Colonnade Gallery, Washington, DC